Description

;gps-id=pcDetailBottomMoreThisSeller&scm=1007.13339.274681.0&scm_id=1007.13339.274681.0&scm-url=1007.13339.274681.0&pvid=992a4746-6314-4032-9754-291b7a7b65ae&_t=gps-id:pcDetailBottomMoreThisSeller,scm-url:1007.13339.274681.0,pvid:992a4746-6314-4032-9754-291b7a7b65ae,tpp_buckets:668%232846%238107%231934&pdp_ext_f=%257B%2522sku_id%2522%253A%252212000017202483695%2522%252C%2522sceneId%2522%253A%25223339%2522%257D&pdp_pi=-1%253B31.66%253B-1%253B-1%2540salePrice%253BUSD%253Brecommend-recommend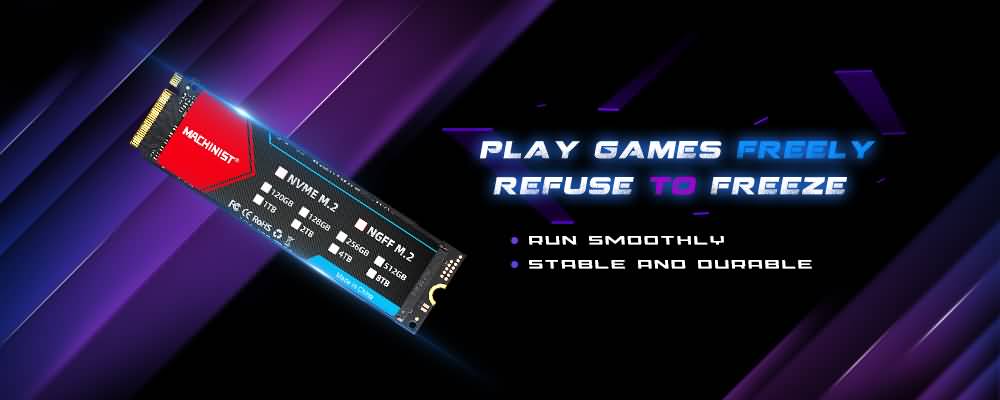 If you need more memory, please click the picture above to buy
This motherboard can be overclocked, quad-channel memory
MACHINIST Official Store Statement
》》For the tariff problem, please make sure you can solve the customs clearance problem by yourself, if you can't solve it, we do not recommend you to buy goods in our store. We are not responsible for customs duties. Thanks for your understanding.
>> What's in the package?
Main products: MACHINIST X99 MR9S motherboard *1; E5 2666 V3 *1; 8GB 2666MHZ DDR4 *2 ;
Gift accessories: i/o shield, CPU cooling bracket, sata cable (all are hand-tested and packaged, there may be omissions, please forgive me!);
MACHINIST Product Details
Brand: Mechanic;
Motherboard model: X99 MR9S;
Status: Brand new;
structure: ATX;
CPU: Intel Xeon E5 LGA2011-3 pin series, and supports DDR4 memory series processors;
Southbridge Chipset: Intel B85 (SR178) Chipset series;
>> Memory:
Technology: Quad-channel DDR4 2666MHZ/2440MHZ/2133MHZ;
Maximum capacity supported: 256GB;
Slot: 8*240 PIN DDR4/ECC;
Supported memory types: The memory types support DDR4 desktop and server memory. (Please use Samsung, Kingston, SanDisk, Micron, Hynix and other international brands, other brands may be incompatible)
>>rear I/O:
PS/2: 1 KB interface and 1 MS interface;
USB interface: 2USB3.0; 4 USB2.0;
Ethernet: 1 Gigabit network cards, RTL8111K network card chip;
Audio: 1 (Mic-in, Line-out, Line-in, SIDE, REAR, C/SUB);
>> Internal Connector:
USB 2.0: 2 (one FUSB can transfer two USB 2.0 ports);
USB 3. 0: 2 (one FUSB can transfer two USB 3. 0 ports);
Serial port: 1 PCS;
PCIe: 5 PCIE interfaces: 3 X16, 1 X1 PCIE, 1 X4 PCIE;
M.2: 1 NEMVM.2, 1 SATA M.2;
WIFI: 1 WLAN-1 interface;
ATXPWR interface: standard lx8PIN power socket; 1 standard 1x24PIN power socket;
SATA interface: 6 SATA interfaces (SATA3.0);
Diagnostic card: 1;
Audio: 1 2x5Pin pin;
Motherboard size: 244MM*303MM
Motherboard weight (including packaging): about 1.4kg.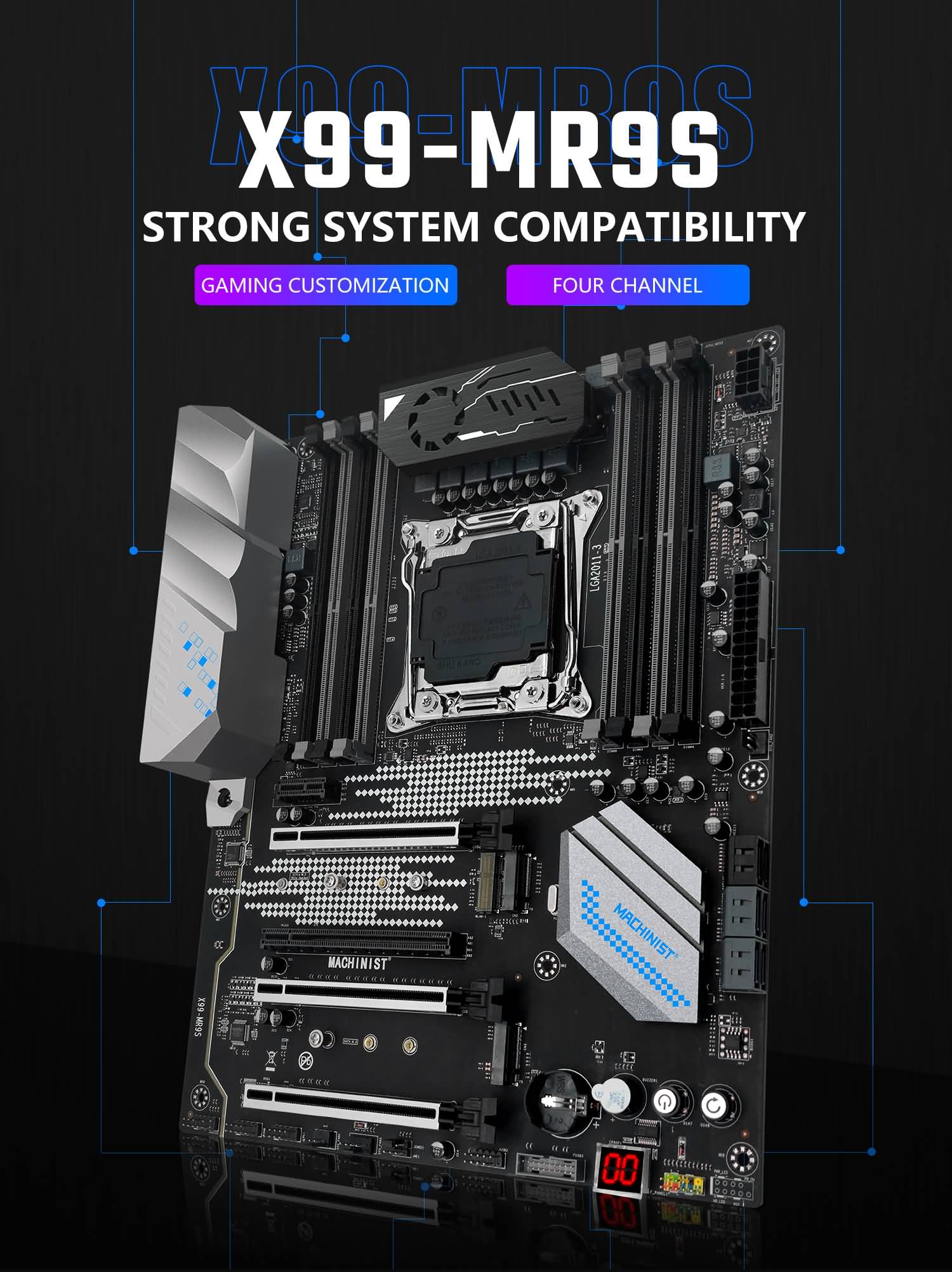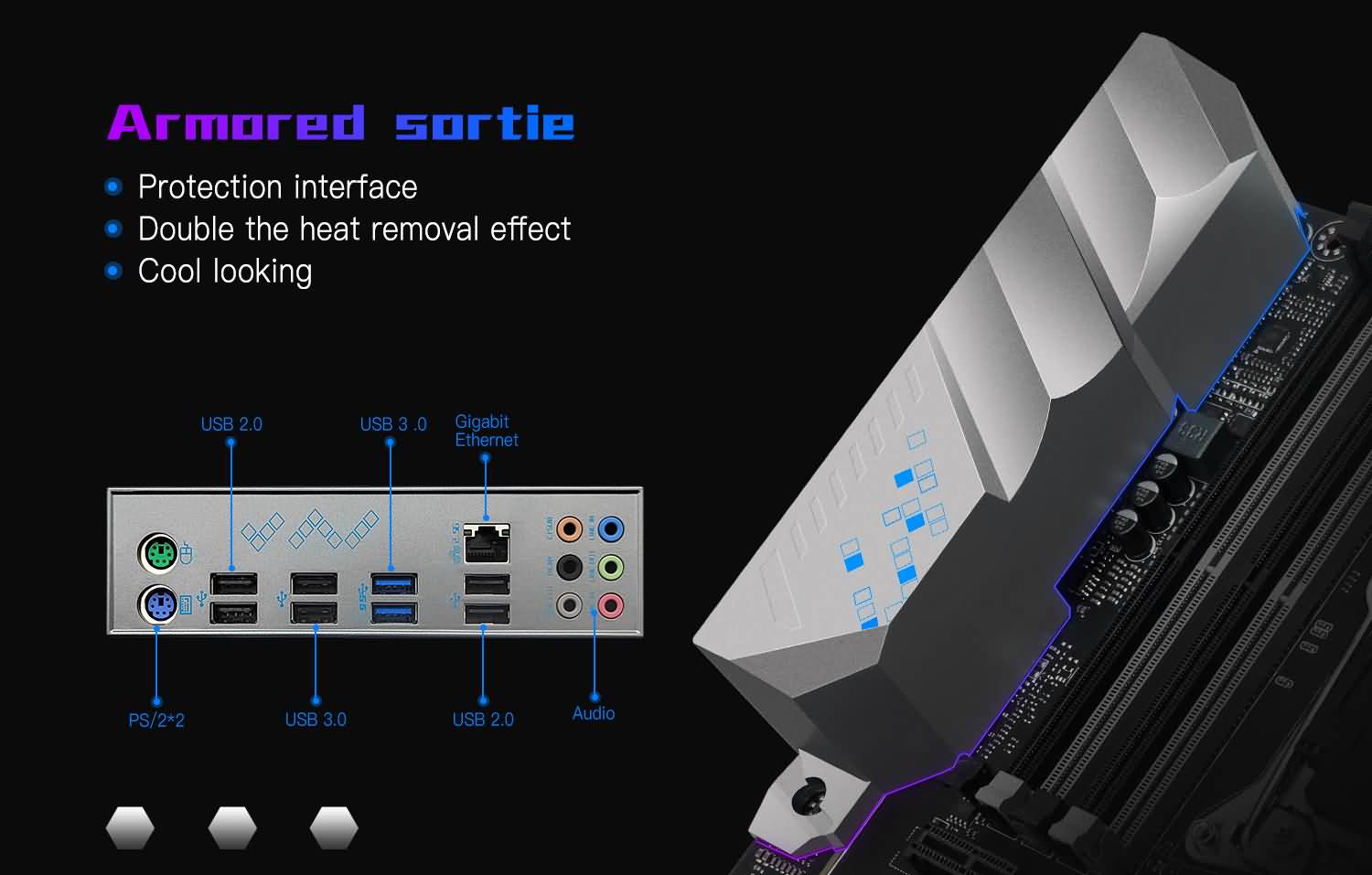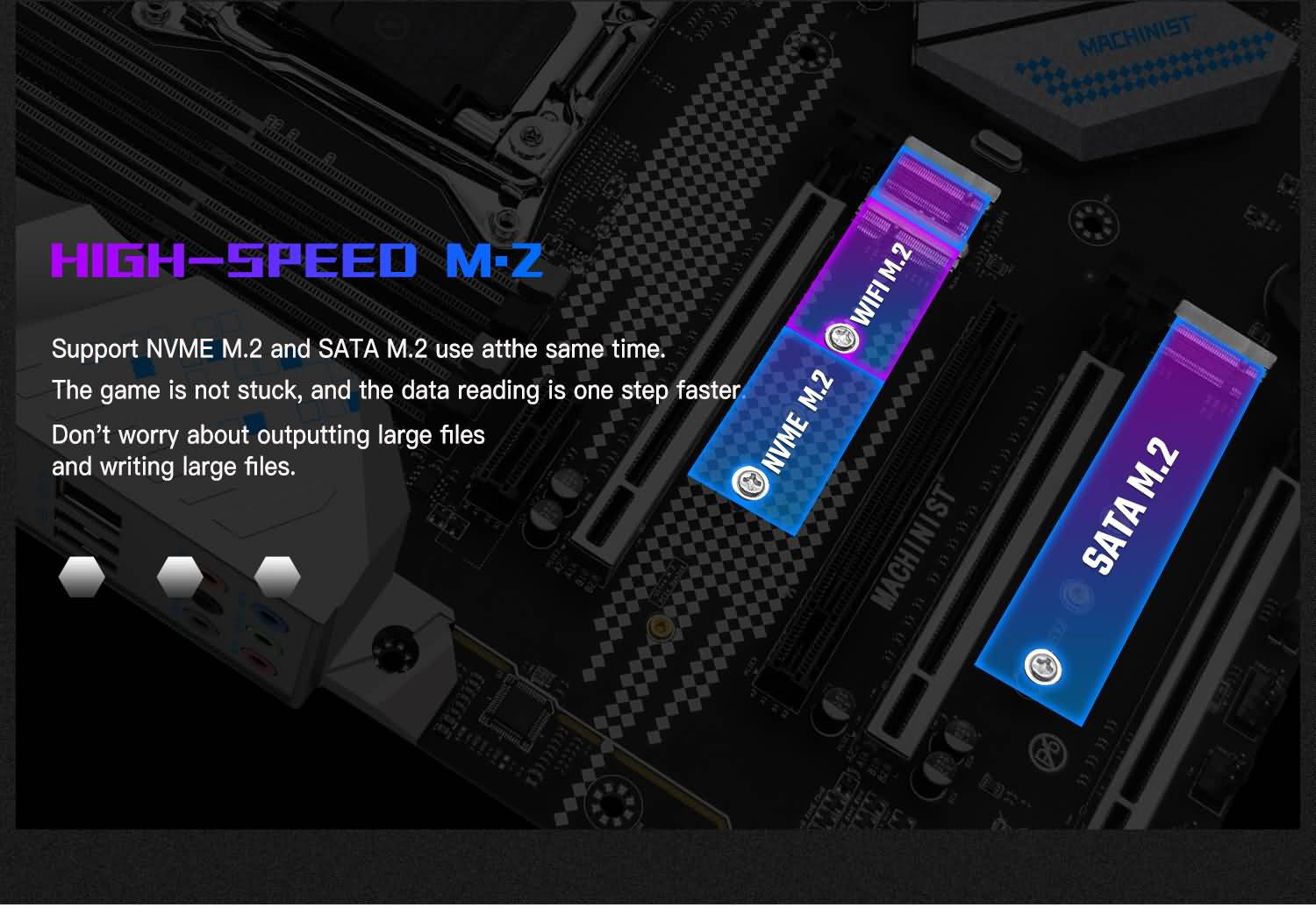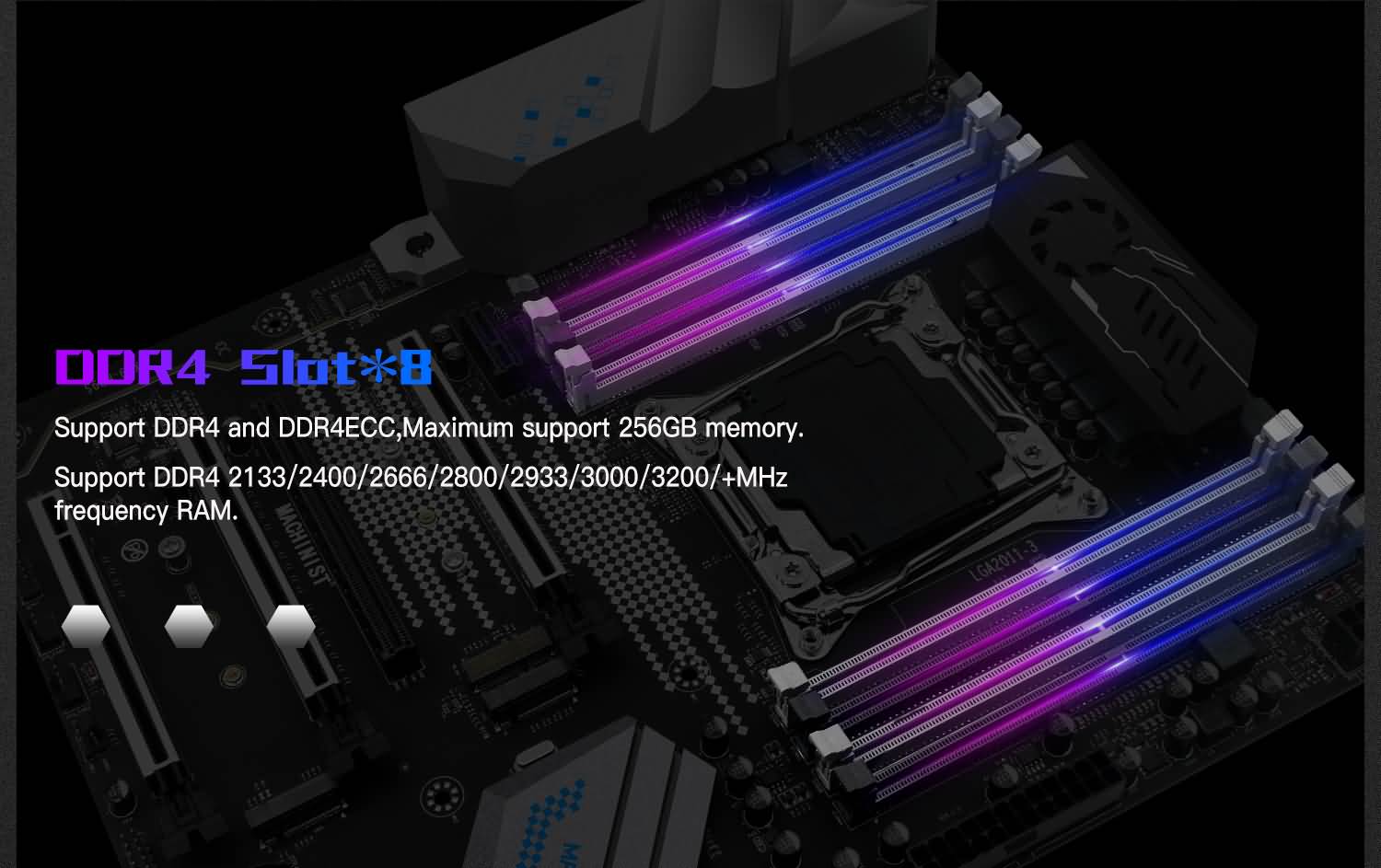 Note: 
(1) The color of the bottom plate of the slot may vary from batch to batch, but it will not affect the use of the product. The product is constantly optimized and upgraded.
(2) Please allow 1-3mm differs due to manual measurement.
(3) Due to the different display and different light, the picture may not show the actual color of the item. Thanks for your understanding.
(4) This planform needs powerful power supply. please make sure your power supply can enough to supports this planform.(at least 500w brand power supply)
(5) The battery in motherboard photos is not included and will be removed before shipping, as this battery is forbidden according to the logistics requirements.